Cheesy Scalloped Potatoes and Sausage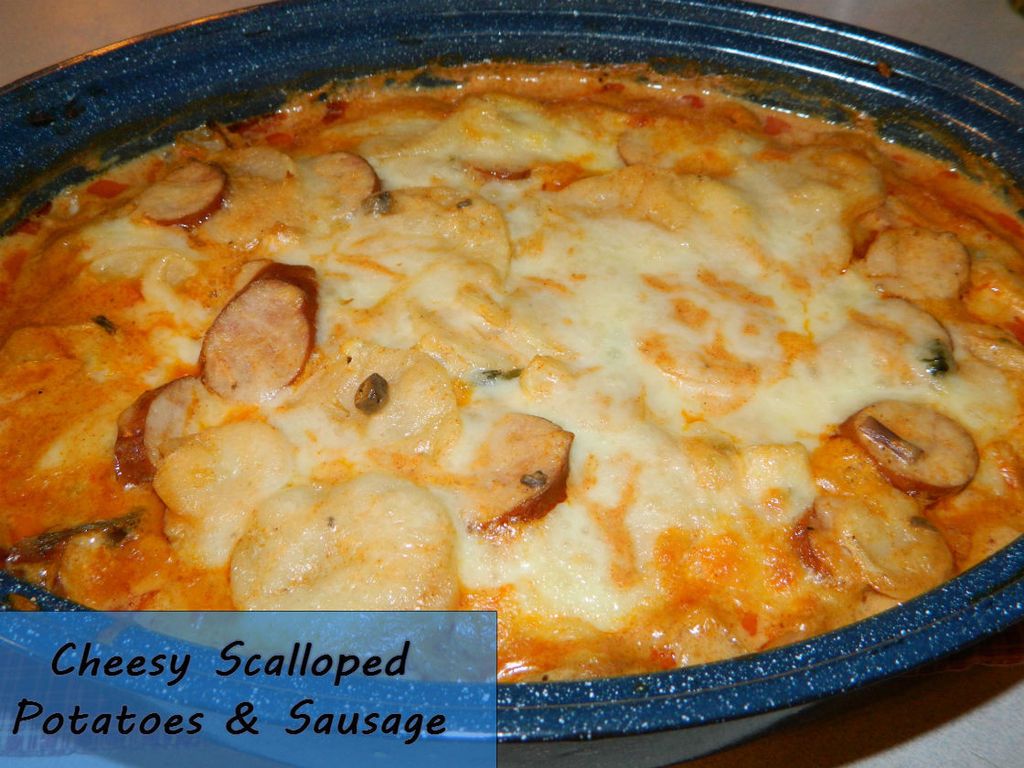 Cheesy scalloped potatoes and sausage is hearty one pot meal that is man pleasing. Perfect for lunchbox meals for the working man. Leftovers can be kept in the fridge for several days.
1 pound package of smoked sausage, sliced in rounds (I used applewood chicken by hillshire)
8 to 10 medium potatoes, peeled and sliced
1 green pepper, seeded and coarsely chopped
1 large onion, peeled and chopped
1 (8 oz.) package colby jack cheese, cubed
1 cup milk
1 cup sour cream
4 tablespoons butter
1 teaspoon salt
1/2 teaspoon black pepper
1/2 teaspoon garlic powder
3 tablespoons all-purpose flour
1 cup shredded cheddar cheese
2 tablespoons paprika
fresh parsley, for garnish
In a large mixing bowl slice up the sausage, peel and slice potatoes, chopped green pepper and chopped onions. Toss to mix. Spray a 9x13 baking dish with cooking spray and pour in the potato sausage mixture. Sprinkle cubed cheese on top.
In a saucepan combine milk, sour cream, butter, salt, pepper, garlic powder, flour and paprika. Over low heat melt the ingredients while stirring with a wire whisk until mixture thickens and is smooth. Do not boil. Remove from stove and pour over potatoes and sausage. Sprinkle shredded cheddar cheese over top.
Cover with foil and bake in preheated oven at 375 degrees for 35 to 40 minutes or until potatoes are tender when stuck with a fork. Remove foil and bake for 15 more minutes until cheese starts to brown on top. Remove from oven and garnish with fresh parsley.
Makes 8 to 10 servings
Enjoy!
~ Farmgirl
Pin It