I've only made these one time; that's only because I had misplaced the recipe. Now that I have found it again. I will be making them often. I know everyone in my family really did enjoy them. I enjoyed watching them devour them as they are a healthier option than most cereals and other breakfast foods they usually choose. Not to forget they are also pretty. :)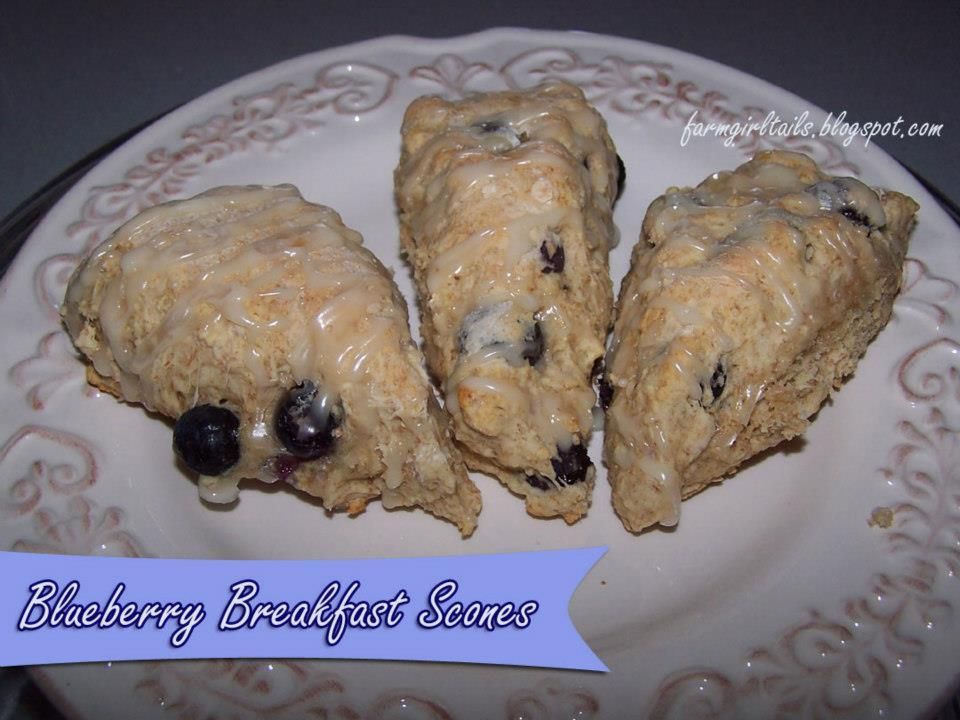 Nonstick cooking spray
1 - 1/2 cups all purpose flour
1/2 cup white whole wheat flour or whole wheat flour
1/4 cup sugar
1 tablespoon baking powder
1 tablespoon finely shredded orange peel
1/4 teaspoon baking soda
1/4 teaspoon salt
1/4 cup butter
1 egg
1/2 cup buttermilk
1 teaspoon vanilla
1 cup fresh or frozen blueberries
1 recipe Orange Glaze (follows this recipe)
Preheat oven to 400 degrees. Lightly coat a baking sheet with nonstick cooking spray; set aside. In a large bowl stir together all purpose flour, whole wheat flour, sugar, baking powder, orange peel, baking soda, and salt. Using a pastry blender, cut in butter until mixture resembles coarse crumbs. Make a well in the center of the flour mixture.
In a small bowl whisk together egg, buttermilk, and vanilla. Add egg mixture all at once to flour mixture; stir just until moistened. Gently stir in blueberries. (Do not thaw frozen blueberries; thawed berries will discolor the dough.) Mixture will not completely come together in a ball.)
Turn out dough on a lightly floured surface. Knead dough by folding and gently pressing dough for 10 to 12 strokes or until nearly smooth. Transfer dough to the prepared baking sheet; pat or lightly roll dough to a 7 inch circle. Cut circle into 10 wedges. Separate wedges so they are about 1 inch apart.
Bake about 15 minutes or until golden brown. Remove from baking sheet. Cool slightly on a wire rack. If desired, drizzle scones with Orange Glaze. Serve warm. Makes 10 scones.
Orange Glaze:
In a small bowl stir together 3/4 cup powdered sugar and 1/4 teaspoon finely shredded orange peel. Stir in enough orange juice or fat free milk (3 to 4 teaspoons) to make drizzling consistency.
Nutrition Facts:
Calories 171, Total Fat 5 grams, Cholesterol 34 mg, Protein 4 grams, Carbohydrate 27 grams, Fiber 1 gram, Sodium 215 mg
Items You May Be Interested In:
Pin It